You can accept balance top-up requests from your company's employees on Edenred's employer websites.
If you use the Ordering tool:
Log in to the Ordering tool.

If you manage more than one company, select the company whose employees' balance top-up requests you want to accept.
3. From the Product Selection menu, select the benefit for which you are accepting balance top-up requests. Please note that if your company has more than one employee benefit, you will need to accept balance upload requests for each benefit separately.
4. If there are any pending requests to be accepted, a message will be displayed immediately (see image below). Click on 'Show request'.
Select all the employees whose requests you want to accept from the left-hand side and finally click on 'Submit' in the bottom right-hand corner.
You can also accept balance top-up requests after selecting a product in this way:
Go to 'Employee orders' - 'Top up - MyEdenred' - 'Load Order Confirmation' - select employees - 'Submit' (see the picture below).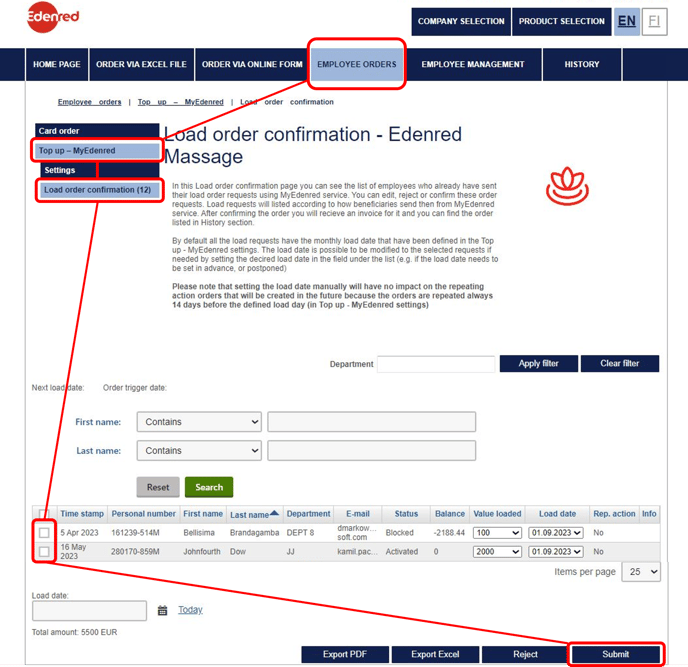 If you use the Employer Portal (voucher customer or subscriber to a virtual lunch benefit for less than 20 people):
In the Employer portal, you do not need to accept an employee's balance top-up request, but the balance will be loaded immediately on the employee's card if there is money in your company account. The employee can make one request per month.
If your company account balance is not sufficient, the contact persons in the Employer Portal will be informed by email.
You can check and transfer your balance from the 'Transfer money' menu on the left-hand side.