Edenred has switched from the old Ticket cards to the new Edenred cards.
Some of the companies may still have a Ticket card that contains either a lunch or a Virike benefit (you can recognize the card by its purple color and the text Lunch or Virike). We have given up these cards and switched to new and more comprehensive Edenred cards, which you can recognize by their white color. From 26 October 2021, Ticket cards were automatically renewed as Edenred cards.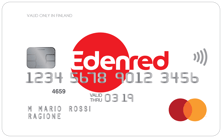 Edenred Lunch and Edenred Virike card (old) and Edenred card (new).
Do this:
Order a new card in the Employer portal either

Directly as a new card under the 'Edenred card' product with an Excel or online order form, OR
As a renewal order, from the settings of the expiring 'Edenred Virike card' or 'Edenred Lounari card'. The card is automatically renewed as an Edenred card.

If the card order is made with the same customer number as the old card, the balance is transferred between MyEdenred accounts when the new card is activated. There may be a slight delay in the migration of balances, but they will be transferred within a day.
Your contract is automatically renewed into a virtual or physical Edenred card, depending on which one your previous card was.
Why the Edenred card?
The card includes both lunch and Virike benefits. So you no longer need separate cards, but you can still load only one of the benefits onto the card if you wish.
The Mastercard-based payment card works with contactless payment on all payment terminals that support contactless payment in our network (taking into account the contactless payment limit), with online payment (depending on the service provider), and in applications that support it (depending on the service provider).
Best of all, the Edenred card can be added as a payment method to Apple Pay and Google Wallet.
You still do not need a PIN code to pay with your card.
The card is safe to use and its reliability is 99.9%.
Edenred's payment cards are also environmentally friendly, as they are completely plastic-free!