Idealday 2022 Responsibilty Day dedicated to the elderly
Every year, Edenred employees around the world donate one full day of their time to a local charity. After many years of COVID 19, we unanimously wanted to do something for this year's Idealday, that was close to another human.
"A day full of love" – Einö Grön, flower wreaths and a Midsummer party in two nursing homes
With the help of our partner Seurana Oy, two nursing homes were selected: the Mainiokoti Hermanni* in Helsinki and Attendo Vantaanhelmi* in Vantaa. Seurana, which provides friendship and companion activities for the elderly, aims to promote happy old age and reduce loneliness.
The approaching Midsummer provided a good theme. We got the wonderful Eino Grön to play a concert in both nursing homes, and a Midsummer celebration was born," says Laura Kuusela, Director of Sustainability at Edenred Finland.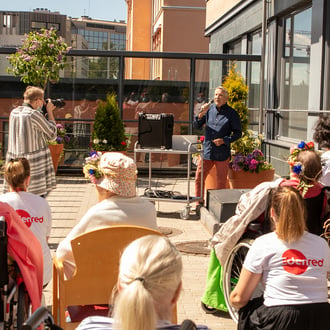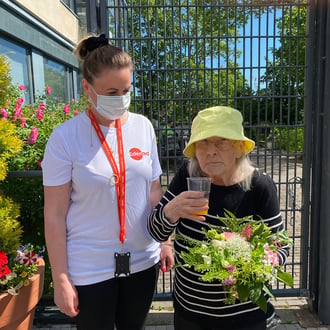 Before the concert, Edendred and Seurana employees tied wreaths and bouquets for the residents of the nursing home with the guidance of the FlowerRescue charity organization. FlowerRescue saves flowers from going to waste and donates them to nursing homes and charities.
"One of the best days of my life" – The joy and emotion was contagious
When we asked Eila, a resident of Mainiokoti, after the party how the afternoon had felt, we were initially met with tears, which turned out to be tears of happiness:
I'm starting to cry. It was a day full of love. I can't describe it better. One of the best days of my life, I'll remember this for the rest of my life. I haven't had one of these lately, since even family couldn't visit.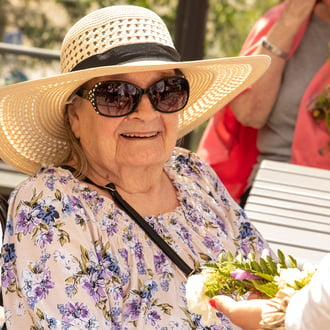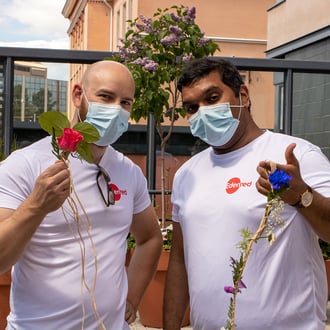 With Eila's words in our hearts, we can say that the day went better than we dared to expect. There was a sense of emotion and happiness in the air from everyone who attended the party: residents and staff, and Seurana and Edenred employees alike.
Music brought back memories and got people dancing
The party was thrown on the residents' terms. The elderly could participate in the activities according to their own ability, but the most important thing was the time spent together.
We socialized, enjoyed coffee, cake and summer punch, and admired the colorful flowers. Anticipation was in the air before the concert. The party was crowned by a performance by the charismatic Eino Grön. Nostalgic classic tunes and waltzes made even residents who were no longer known to be able to dance, get up and dance.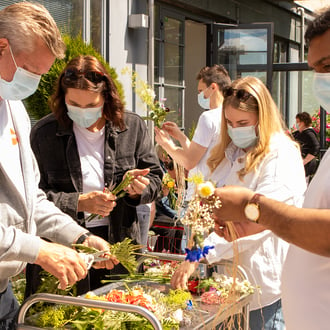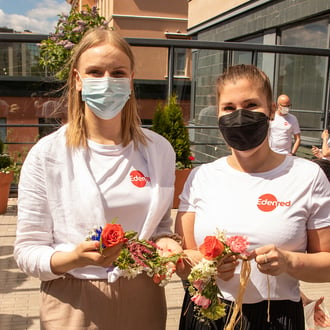 We saw a few small miracles when a resident took a friend from Seurana to a couple's dance to everyone's surprise. One resident with memory problems also said after Eino's show, "I liked it."
Our wish was to please the elderly in particular, for whom the period of isolation has been particularly hard as they are a risk group. We wanted to donate our time to them - and at the same time bring joy to the nurses and other staff who do demanding and socially valuable work in the nursing home," says Kuusela.
Grön has also performed in nursing homes before, and the gigs are particularly meaningful to him personally - as Grön's own wife also lives in a nursing home.
What is Idealday?
Idealday is the Edenred Group's annual responsibility day, when employees go to a local charity in each of the Group's 45 countries. Donating one day's worth of labour is a gesture of solidarity, which in practice can take the form of planting trees, donating blood, helping a social group with a painting project - or just being there and listening.
So what is important about the day is the impact that one day's work by an entire company can make - and it is also a concrete reminder of the importance of solidarity. When we see and experience the impact with our own eyes, it often opens our eyes to helping with our own time. This year's Idealday implanted the need in many of our employees to do something similar in their free time.
Join Seurana's activities or volunteer?
Do you have any active seniors in your circle who might want to get involved to Seurana as companion for the elderly? The Seurana's companions are retired people themselves who want to stay active and do meaningful part-time work.
Apply for the valuable part-time job at Seurana here.*
If you also feel like volunteering to help the elderly or other people who need company and help, you can sign up for FlowerRescue's charity events or Helsinki Mission* in the Helsinki metropolitan area.
Or you can look for similar organizations in your own local area. Let's look after each other!
* In Finnish