Satama Bar & Bistro relies on freshness and customer experience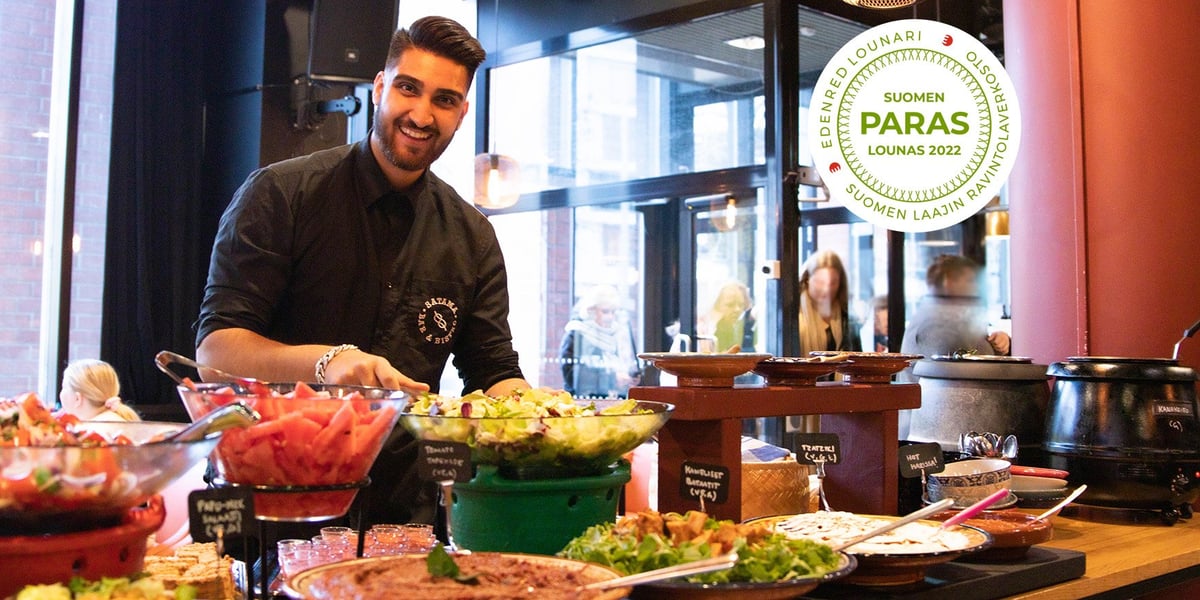 There is a lively discussion going on at the winning restaurant of the Best Lunch in Finland 2022 (Suomen Paras Lounas 2022) competition, Satama Bar & Bistro in Kalasatama, Helsinki. Restaurant owner Habi Saini, chef Mohammed El Sayed and the patron of the competition, chef Harri Syrjänen are present and Syrjänen is giving a sparring session as part of the competition winner prize.
"I want to congratulate Satama once more. The win is certainly deserved, it doesn't come out of nowhere. The strengths here are fresh ingredients, good flavors, purity of flavors and a selection that is wide enough. Even if you visit here often, you will always find new combos. Freshness also applies to everything else Satama does, both the staff and Satama's good, fresh atmosphere," sums up Syrjänen.

What were the winning ingredients of the Best Lunch 2022 competition?
It was the first time in competition´s history that victory came to Helsinki. The winning ingredients consisted not only of tasty North African, mostly plant-based food and a lunch buffet inspired from flavors of the Mediterranean, but also of the investment of the entire restaurant team - both in the competition itself and in the everyday customer experience.
"We treat the Satama as if it were our home, where all customers are our guests when they come here. We want to take care of every customer as well as possible and we want customers to be able to trust what we do here." Satama Bar & Bistro restaurateur Habi Saini says.
During the competition, the whole team worked together: leaflets were placed on the tables and information about the competition was displayed on the big screen. Everyone at the lunch were told about the competition face to face, the employees told their family and friends. Instagram and Facebook channels were also used throughout the competition.
"The goal was to be at the top 30, which we would have been really happy about. We received a lot of love and encouragement from the customers, and suddenly we rose in the race - when the excitement grew and the stakes got higher. This victory came in with really good timing after the Covid-19 period. Our team is now very motivated to show that we really are the best lunch in Finland."


The young restaurateur's role model is his family background in the restaurant industry
Satama Bar & Bistro was founded in 2018, and chef El Sayed has been behind the menu since the beginning. When the restaurant was put up for sale during the Covid-19 period of 2021, only 25-year-old Saini decided to accept the challenge.
Saini saw great potential in the restaurant and knew the developing area of Kalasatama well. The first tasks were to clarify the brand and concept, the layout of the restaurant was completely renewed and investment in marketing began.
"I owned my first bar-restaurant when I was 23 years old, and I learned a lot about the industry then. However, I dreamed more of a more modern restaurant, where people could come and sit and spend the evening, and that location would be better"
The amazingly young entrepreneur's passion for the industry comes from his own family's 40-year background in the restaurant industry.
"Growing up, I've looked up to my father, seen how he presses in the restaurant, greets customers and does paperwork at home. That's probably how the interest has passed on to the next generation," Saini laughs.

The chef's inspiration is his own mother's Egyptian vegetarian dishes
The chef's delicious food is also influenced by his own childhood family.
"The inspiration for cooking and vegetarian food comes especially from my mother. I come from a small village in Egypt, where I grew up on a farm surrounded by fresh ingredients. The secret of vegetarian food is that it needs to be seasoned just as well and with time as meat food."
When El Sayed started working with vegetarian food in Finland in 2005, the time for a breakthrough in vegetarian food was not yet quite ripe, even though the feedback was good.
"Now vegan food has risen in popularity, and that is exactly my strength - tasty vegetarian food. Often customers even ask if this is really vegan food when it's so tasty and creamy - yes it is."
At Satama, well-seasoned meat and fish dishes are also served, but there is a special emphasis on vegetarian food. After Saini became a restaurateur, the menu has been developed together and a touch of Saini's Indian roots has also been brought into the kitchen.

Satama Bar & Bistro always wants to offer customers something special
To chef El Sayed winning the Best Lunch in Finland title feels like a gift after a long marathon.
"The victory felt almost like a dream, it still feels that way sometimes."

Naturally, the chef's family in Egypt is also very proud of his and Satama's success. He reminds that in the end it was the customers who made the victory fro them:

"Above all, we are really grateful to our customers. When customers come to us, we want to offer more than lunch; the same experience as if they were coming to a fine dining dinner. We want to offer only the best quality. We hope that the customers will experience something special when they come here", sums up the cheerful chef.


Customer: "This is not just a clinical lunch line, but a restaurant experience"

On Fridays, Finland's best lunch has a particularly handsome setting: a cheese and fruit plate, colorful salads, tasty side dishes, versatile warm dishes and a dessert table topped with vegan churros and smoothies. Enjoying lunch, Marko, a customer, says that he has been eating at the restaurant a little more often in Satama after the win.
"The victory reminded me that the lunch here really is better than average. The offer is so plentiful that you can't even try everything at once - there's always something new to taste."
Great customer service and the atmosphere of the restaurant are equally important factors for him:
"Lunch here doesn't feel like visiting a clinical lunch line during the workday to ´refuel´. This is more of a restaurant experience – it lifts you up from everyday life for a while in the same way as going to dinner. The staff and the owner Habi are really friendly and service-oriented, they take every customer into account really fairly in a way that makes you feel welcome."


Victory almost doubled the number of customers, Late Lunch eliminated the food waste
Although there was a nice flow of customers before the win, the Best Lunch 2022 win has almost doubled the number of lunchers. Cooperation offers from companies have also started coming in with the new title.
"Not everyone fits in during lunch rush hour, especially when the terrace is not in use during the winter. We are definately looking for business premises and negotiations are underway. Certainly at least one additional restaurant is coming in the next few years," says Saini.
Satama invests in freshness, and has solved the food waste problem with Late Lunch take away concept. From 14:30 to 15:00 everything left from lunch will be sold for 5 euros per portion.

"We want to be responsible and gladly support people by offering cheaper food instead of throwing away good food. We have marketed Late Lunch, and with the win for Best Lunch, the concept is even better known. We have no food waste at all." Saini tells.
For example, many people collect salad in one box and warm food in another, and more and more people use their own boxes instead of disposable boxes. Late Lunch is brings in students, working people and pensioners, which makes Sain happy. For restaurateurs, it is important to in general pay the good forward and Late Lunch is one such means, and donating to charity, for example, is also part of Satama's everyday life.


Satama Bar & Bistro wants to live up to its title in the future as well
Satama Bar & Bistro sees the title of Best Lunch in Finland as something that is not earned just once - but as a promise that must be fulfilled every day. A "Suomen Paras Lounas 2022" sticker has been taped to the catering car, telling about the victory of the competition, and large stickers telling about the victory decorate the windows of the restaurant.
"We cannot offer poor quality when we put big logos on display. Then the expectations are also high - and so far we have been able to fulfill them, says Saini.
Saini always has three things in mind when he comes to work: marketing, customer experience and quality.
"If there is no marketing, people don't know about the restaurant. If the customer experience is not good, customers will pass it on. And if the quality isn't right, people won't come to the restaurant. On the other hand, when all of these work, it is possible to do profitable business"
Saini really appreciates the winners of previous years, who managed to win wonderfully in smaller towns. He also likes to follow what they do, because you can always learn a lot from others.
" I would hope that in the future Satama could be a bigger brand, where people want to come to have a lunch break or spend an evening with family and friends. And of course I hope that what we do could inspire other restaurants as well."