5 facts about safe and fast mobile payments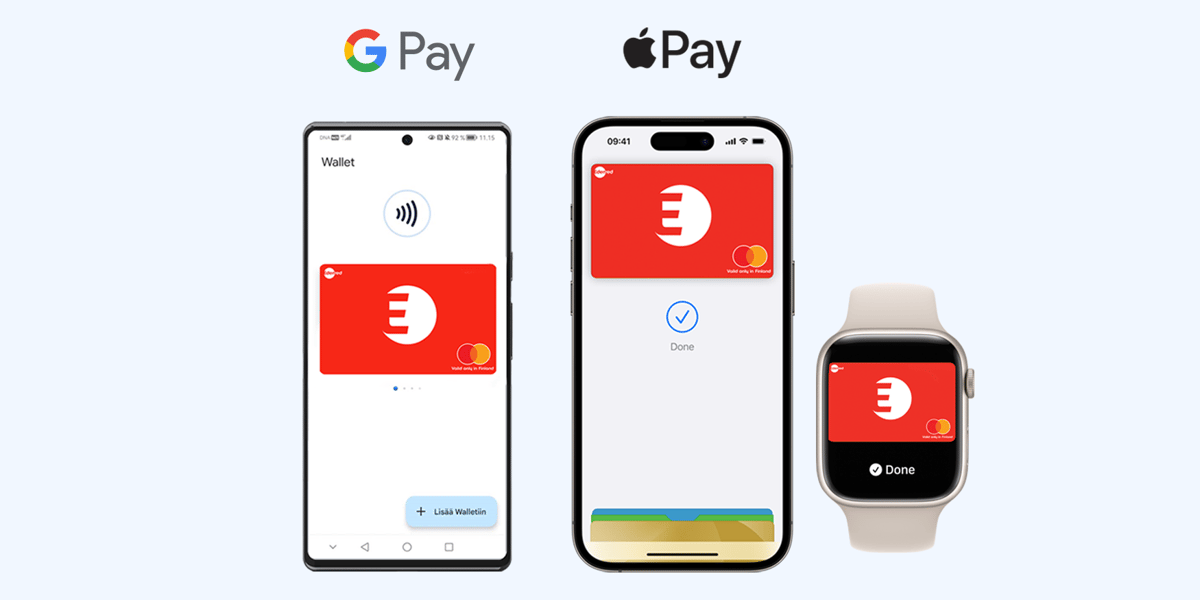 Nowadays, more and more people pay for their purchases with a smartwatch or phone. Mobile payments as a safe and fast payment method are here to stay. However, many may still be hesitant of introducing mobile payments to their everyday life. We collected five facts that will help you get started.

Don't forget to also add all your Edenred benefits to your electronic wallet, i.e. Apple Wallet or Google Wallet, so you can also pay with our benefits on your mobile!
1. How does mobile payment work?
Mobile payment generally refers to paying with a smart device. For example, you can pay at the checkout with a smartphone or smartwatch, and with a smartphone in online stores and within applications. It can also mean transferring money from one person to another using a phone number.

When you download to your phone or smart watch or use the most common electronic wallet applications, i.e. Apple Wallet for iOS devices or Google Wallet for Android devices, you can store all your payment cards safely with you wherever you go. In this case, you can pay with either Apple Pay or Google Pay, both as a contactless payment at the cashier and as a remote payment in an online store, and you don't have to search for code numbers or enter the card number when paying.
2. Are mobile payments safe?
Mobile payments mostly use biometric identification, i.e. facial recognition or fingerprint, which makes it a very safe way to pay. In this case, no one but you can access the payment application. When you pay for purchases online, you also do not have to provide your payment card information or your personal identification number to the online store, which further increases security.

If your phone is lost, no one else can access the payments, because identification is done with a fingerprint, face recognition, or your own security code.
3. What are the benefits of mobile payment?
Mobile payment is a modern, really fast, and effortless way to pay for purchases. You don't have to remember pin codes thanks to biometric identification, and forgetting your wallet at home is no problem. A mobile phone or smartwatch is always with you - and when you add all your payment cards to your electronic wallet, everything you need is automatically carried with you! When paying with contactless payment at the checkout, you can also pay hygienically without touching the payment terminal or cash.
4. Where can you use mobile payment?
Mobile payment based on electronic wallets can be used in general at all payment locations with a payment terminal and remotely in online stores. Mobile payment using an electronic wallet works in the same way as contactless payment with your payment card. The only real difference is that your cards are stored and safe in your electronic wallet, heavily protected by your smart device, not in your physical wallet.
5. With all Edenred benefits, you can pay mobile with Apple Pay or Google Pay
Did you know that even when paying with all the benefits of Edenred, you now have the option to use mobile payment? When you add your benefit-specific physical or virtual card to Apple Wallet or Google Wallet, you can pay with your benefits easily and on mobile. Edenred is the only provider of employment benefits in Finland whose benefits you can add to Apple Pay or Google Pay.

Edenred's cards and benefits travel safely and easily in your electronic wallet just like your other payment cards. A lunch date, an ex-tempore swimming trip, or a massage at the end of the day? By mobile, you can easily pay for spontaneous adventures with employment benefits in the blink of an eye.