Tips for a balanced vegetarian lunch from the lunch buffet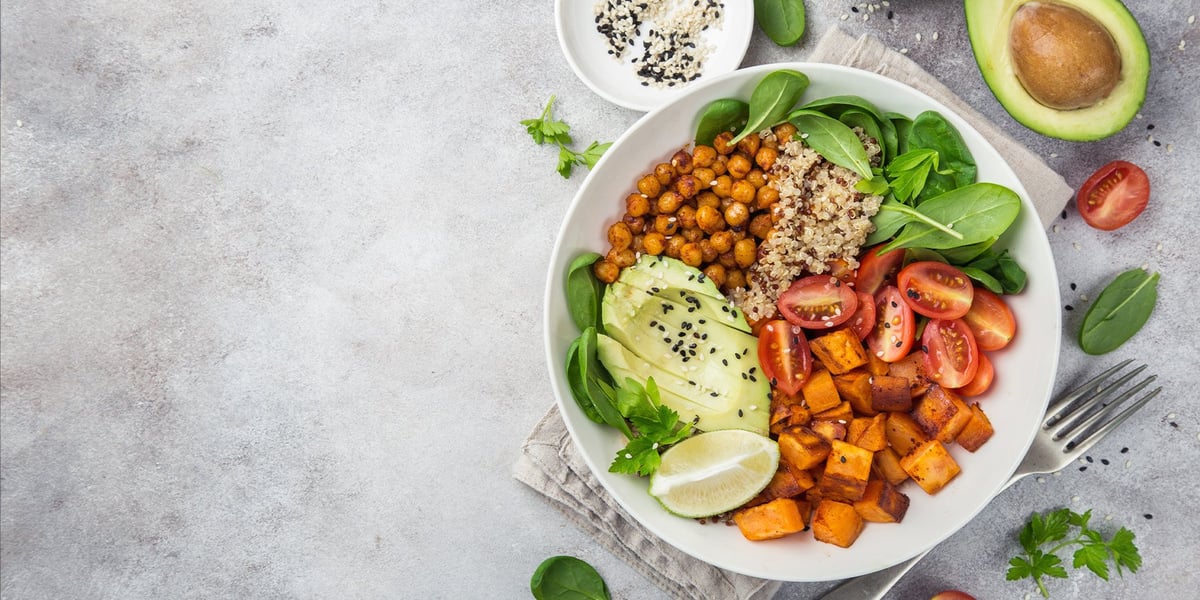 Lunch is one of the most important moments of the day for recovery - but have you considered that it is also an opportunity to influence both your own health and the environment with the portion choices you collect on your plate? Nowadays, it is quite easy to eat a varied and vegetable-focused meal at the lunch buffet, especially if you also know the sources of protein obtained from vegetables. We collected tips for a full vegetarian lunch to make your choices at the lunch buffet easier.
Vegetarian foods' many benefits

Vegan and plant-based food has many good points: vegetarian food is more climate-friendly, its carbon footprint is smaller, and vegetarian food is also more likely to be ethical food because it does not involve issues of animal rearing conditions.
In addition, vegetarian food has many health effects, as it often contains a wide range of trace elements and vitamins, a lot of fiber and good fats. That's why mixed eaters should also try a wider range of tasty vegetarian dishes in their everyday life and, for example, sometimes have vegetarian food days. Tip: in the best lunch buffets, the most deliciously seasoned dishes may actually be found in vegetarian dishes these days. Vegetarian food is much more than a side dish!
Vegetarian food is versatile and rich in nutrients
According to the Finnravinto 2017 study, up to 80% of Finns did not reach the recommended goal of half a kilo of vegetables, but it is difficult to avoid this for those who prefer vegetarian food. Eating enough vegetables affects the health of the intestines as well as cholesterol, vitamin balance and mood.


All products developed to replace meat do not always have the same nutritional value as their original protein-rich counterparts, and that is why it is good, especially for vegetarians, to know the real super proteins of vegetarian foods. There are good sources of complete protein in the flora that are worth getting to know, whether you are a full-time vegetarian or a luncher who has vegetarian days in his diet. Complete protein refers to protein sources that contain all nine essential amino acids in sufficient quantities.
Real also: Lunch in a restaurant is healhtier than home lunch
A vegetarian's best friends: vegan complete proteins at the lunch table
When you collect a portion of vegetarian food from the lunch buffet on your plate, in addition to vegetables, especially look for complete proteins on your plate. In vegetable proteins, the amount of protein varies somewhat, so we also listed the amount of protein and an indicative serving size using the palm model for that protein serving (if it is the only protein in your lunch portion) for a balanced meal.
1. Tofu

A generous handful/portion.

The old familiar tofu is the best friend of many vegetarians. You can get tofu in many forms, from silky to firm, and by seasoning and frying it works for many different foods and tastes - that's why it's one of the most popular vegetable proteins. In many lunch restaurants, tofu is the cornerstone of vegetarian food proteins. Tofu is made from fermented soybeans, which is a vegan source of complete protein. 100g of very firm tofu contains about 13g of protein.


2. Edamame

A generous handful/ portion.

Edame stands for whole soybeans, which are a tasty vegan protein source. These beautiful green beans are often found especially in Asian restaurants. 100g of edamame can contain about 11g of complete protein.



3. Quinoa

A couple of handfuls/ portion

The nutty flavored quinoa is actually an ancient grain. Quinoa is a great alternative to, for example, rice or couscous. Quinoa is often used as a side dish, for example, in salads or main dishes to bring protein and to create a more neutral base for the most spicy ingredients. 100g of cooked quinoa contains 4g of protein and 3g of fiber.

4. Tempeh

Handful/ portion

Are you familiar with tempeh? Tempeh is also a soy-based, concentrated source of protein, which often includes grains, which further increase the protein content. 100g of tempeh contains up to 19g of protein.


5. Rice+beans

a couple of palms/ portion

This combo known from Latin America is not a classic for a reason. Although rice or beans alone do not qualify as complete proteins, together they form a complementary amount of different amino acids. What a wonderful union! Thus, for example, chickpea-rich falafel balls with rice already form a complete protein combination on your plate.


Other vegan complete proteins that should be preferred during the day:


6. Pistachios

Of course, pistachio is a rarer delicacy, but if there is pistachio in the lunch dish, it should be preferred. Pistachios are a source of complete protein, which adds a wonderful flavor to dishes and snacks. 100g of raw pistachios contains 20g of protein.

7. Buckwheat

Buckwheat is a seed-like grain that is often used as a protein-rich and gluten-free flour. 100g of dry buckwheat contains 13g of protein. So if there is, for example, buckwheat bread in a lunch restaurant, take it on your plate.

8. Hemp seeds

Hemp seeds are superfood in many ways, they contain about 30% protein in addition to good oils. Hemp seeds are suitable for adding to dishes from smoothies to salads. 100g of hemp seeds contains up to 25g of protein.


9. Chia seeds


Chia seeds are usually not found on the regular lunch table, as they have to be soaked before use - but they still deserve to be mentioned. Sometimes, of course, you can also find chia pudding for dessert in the lunch counter, and then it's worth taking it with you. 100g of chia seeds contains about 18g of protein.


Read more: Lunch in a restaurant is healhtier than home lunch


Treat yourself to vegetarian food with your lunch benefit and discover new taste experiences. See restaurants near you from our Merchant Search!