Movie tickets with Edenred Pay from all Finnkino theaters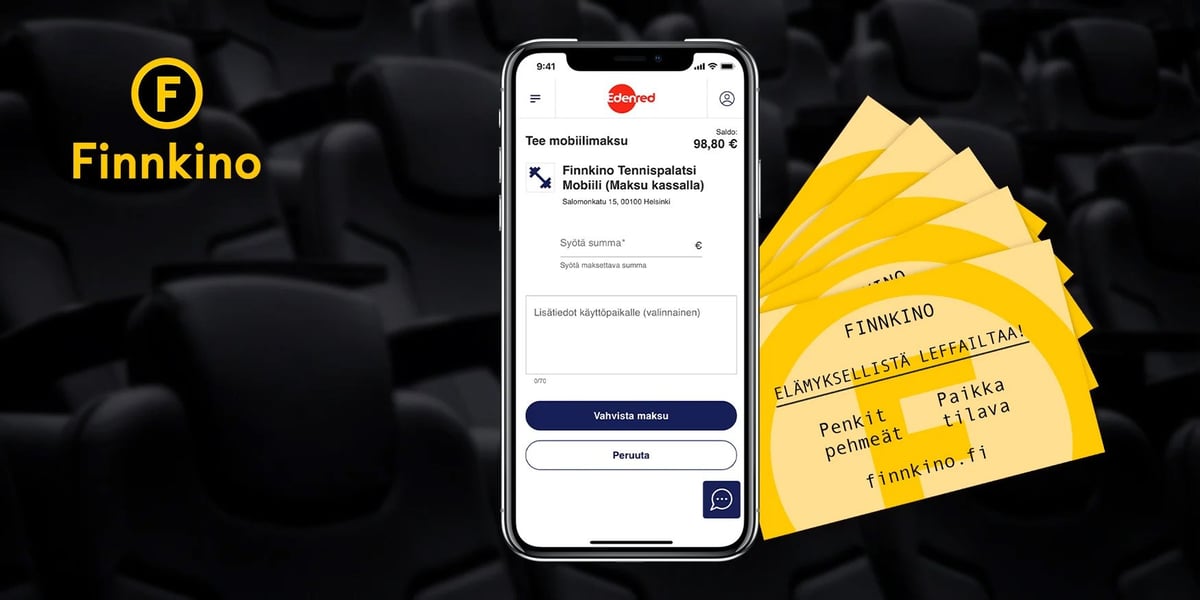 Good news for movie fans! Now you can pay for your own movie ticket not only with card payments, Apple Pay and Google Pay, but also with Edenred Pay in all Finnkino theaters. Edenred Pay payments are handled in Edenred's MyEdenred application, where you can also see your real-time Virike balance. Please note that you cannot pay for movies snacks with Virike benefit.

Are you interested in movie tips for late autumn? At the end of the blog, you'll find tips for Finnkino's new movies, which your Virike benefit can take you to!


Choose the most suitable way to buy your movie ticket with your Virike benefit

You can buy Finnkino movie tickets with your Virike benefit in up to four different ways. So choose the most suitable way to buy your admission ticket to the movie experience:
With Edenred Pay in the MyEdenred application from Finnkino's checkout
With Apple Pay or Google Pay mobile payment from the Finnkino cash desk - did you know that you can add your physical or virtual Virike card to Apple Wallet and Google Wallet?
With a physical Virike payment card from Finnkino's cash desk
Online in advance at finnkino.fi.

In Finnkino's online store, both Edenred's physical and virtual cards work as a means of payment. You can find the virtual card information in the MyEdenred application in your own account.

See here for more detailed instructions on purchasing tickets from both Finnkino´s theatres and Finnkino's online store.
Tips for Finnkino´s movies in the end of Autumn 2022
Is this year's Virike benefit still burning in your pocket? When it gets dark outside, what could be nicer than letting movies take you to other worlds, perspectives and emotional scales? Finnkino's end-of-autumn movie selection is sure to tickle everyone's movie taste buds. Drama, action, romance, horror, comedy, fantasy? Here comes!
Now in theatres:


1.Ticket to Paradise, a romantic comedy

There will be double the Oscar stardust when George Clooney and Julia Roberts meet again on the big screen as a former married couple who take it upon themselves to prevent their infatuated daughter from repeating her own mistakes.


2. Kikka!, Drama, music

Who was everyone's known Kikka? Starring Sara Meller, the music-filled film about the artist Kika takes you to the era when Finland was on its way from the recession to the boom. Kikka! is a film about an entertainer and singer who loved to perform and bring joy to others, even when her artistry was questioned.

3.Punttikomedia, comedy

Kerttu (Iina Kuustonen) is assigned to the gym due to back problems, where it turns out that she is a genetic super-talent. Unexpectedly, she ends up aiming for an incredible goal, the fitness competition stage.

4. Black Adam, action, fantasy, sci-fi

Starring Dwayne Johnson, the action adventure takes you into the world of the DC superhero. Nearly 5,000 years after being granted the powers of the ancient gods and imprisoned, Black Adam is released from his earthly grave, ready to dish out justice to the modern world in his own style.

5. Kulkuset kulkuset,comedy

The first Christmas Eve together of two very different families goes off the rails hilariously right when they shake hands, when the host couple reveals a closely guarded secret: there is also a hostess in the house, and she is very pregnant! Successful director Taru Mäkelä's feel-good Christmas movie marches an amazing star guard of Finnish comedians onto the big screen. Cast: Christoffer Strandberg, Martti Suosalo, Eeva Litmanen, Ali Jahangiri, Pirkko Hämäläinen, Sari Siikander and Antti Tuomas Heikkinen.

6. Mrs. Harris lähtee Pariisiin,drama

Mrs. Harris Goes to Paris is the enchanting story of an ostensibly ordinary English housekeeper whose dream of owning a fashion creation by Christian Dior leads her on an incredible adventure in Paris.

7.Häät ennen hautajaisia, comedy

Wedding planner Joanna (Iina Kuustonen) needs to find herself a backstage boyfriend so she can cheer up her depressed father. As if by order, an eccentric undertaker Sakke (Antti Luusuaniemi) enters Joanna's life, who also has his own motives for looking for a girlfriend


Coming to the theatres in November:


8. Kummeli esittää: Kontio & Parmas 4.11., comedy

At the beginning of the movie Kontio & Parmas, the legendary senior constable Otso Kontio (Heikki Silvennoinen) is spending a leisurely retirement day at his cottage. However, the peace is suddenly broken when the old fighting couple Auni Parmas (Elsa Saisio) brings shocking news about the great destruction threatening Valkeakoski.


9. Black Panther: Wakanda Forever 9.11. , Action, Sci-Fi, Adventure

In the Marvel film, Queen Ramonda (Angela Bassett), Shuri (Laetitia Wright), M'Baku (Winston Duke), Okoye (Danai Gurira) and the Dora Milaje (including Florence Kasumba) fight to protect their nation against the meddling world powers in the aftermath of King T'Challa's death .s T'Challan kuoleman jälkimainingeissa.


10. The Menu 18.11., Comedy, suspense, horror

A young couple (Anya Taylor Joy and Nicholas Hoult) travel to a distant island to eat at a luxurious restaurant that only the few and the chosen have access to. The chef (Ralph Fiennes) has prepared an extravagant menu for his guests, accompanied by shocking surprises...


More movie tips at Finnkino´s webpage.



Remember to check your Virike balance on MyEdenred from your own account and use it by the end of the year!