Pay for your event ticket with Virike benefit at Lippu.fi online store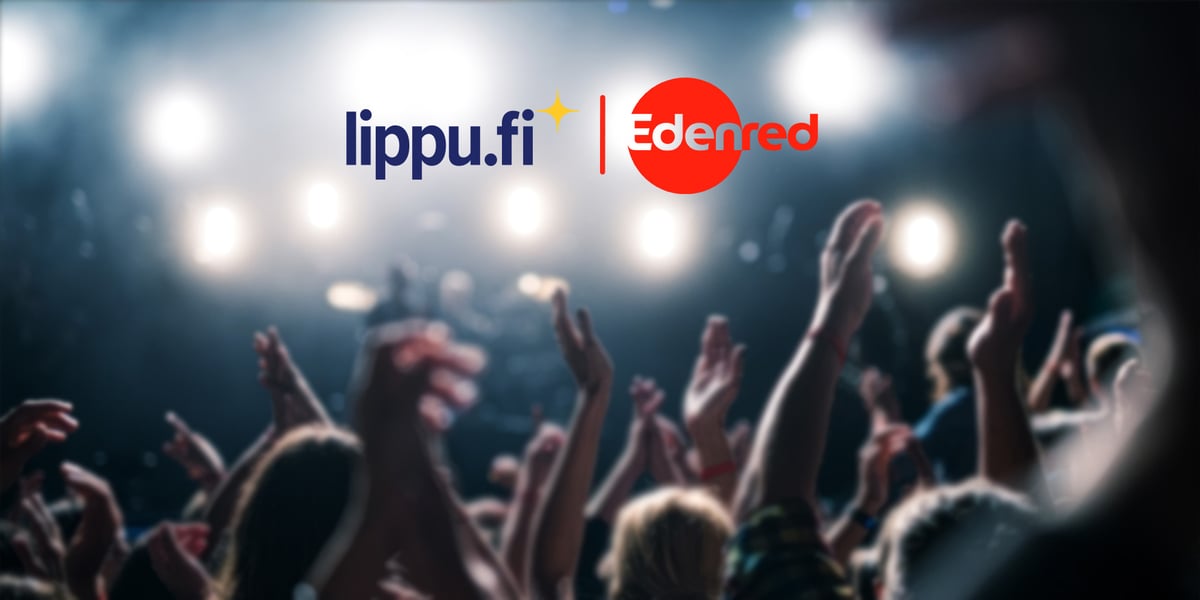 Do you love events – concerts, parties, theater, live sports? We have exciting news for you: Virike benefit now also applies to the Lippu.fi online store's fantastically wide selection of different event tickets. And what's best: Lippu.fi offers its own separate online store for those who use the Edenred benefit, where you can easily find all event tickets covered by the culture benefit.
Buy a ticket or a gift card for yourself
The Virike benefit, i.e. Edenred's sport and culture benefit, is always personal, so you can only buy one ticket to the event for yourself with the same name as what is in your benefit information. In addition, you can buy a Lippu.fi gift card for your own use with Virike. Go straight to instructions here.
A tip if you want seats netx to your friend and buy your own ticket with Edenred

If you want to buy an adjacent seat for an event with a friend in the online store, you can buy a ticket in another tab/device at the same time and book an adjacent seat. Please note that with popular and fast-selling tickets, it cannot be guaranteed that you will be able to grab adjacent seats with different purchases using this method.

If you know it's a popular event, you can buy tickets through the sales service or at ticket outlets where the Edenred benefit is available to guarantee adjacent seats. In these channels, you can buy several tickets for one order and use other payment methods in addition to Edenred.

To be sure, you can check here which ticket types you cannot buy from Lippu.fi with Virike.
How do I pay with Edenred in the Lippu.fi online store?
Go to Lippu.fi's own and separate Edenred online store. Edenred is not used as a payment method at www.lippu.fi., but those who pay with Edenred have their own separate online store.

Buy your ticket as usual by adding the ticket to the shopping cart. Please note that you can only choose one ticket per order, as this is a personal employee benefit.

When paying with Edenred, you can buy ticket cover (8% of the price) for your ticket in the shopping cart stage and use a gift card or access code in the same way as in the Lippu.fi online store.

During the payment phase, the Edenred card information is entered in the designated fields, as when paying with a credit card.

You will receive the order confirmation and the tickets as usual with the delivery method of your choice.
Note! When using Edenred, a service fee of 5 €/order is charged.
What if my Virike balance is not enough to buy a ticket?
If your Virike balance is not enough to buy a ticket, use Lippu.fi gift card as an additional payment method:
Buy a gift card with your own money from the regular Lippu.fi online store. You can buy it just for the difference, which remains to be paid after using your Virike balance (you can choose the value of the gift card yourself from 5 €).

Example: If you have a remaining Virike balance of 35 €, and the ticket you want costs 40,50 € including the service fee (5 €), subtract your Virike balance from the price of the ticket and you will find out the difference, how much money you need for your gift card. In this example: 40,50 - 35 = 5,50 €.

When you have chosen the ticket, click it in the shopping cart.

In the shopping cart phase, use your gift card first.

After using the gift card, you can pay the remaining portion with Virike benefit.

Please note that there are no other online payment methods in use with the Edenred payment method to which the payment could be divided with.
Tickets that cannot be bought with Virike benefit from Lippu.fi:
Other people's tickets. The benefit is always personal.
Fair tickets. Fairs are not defined as a cultural event, but as a sales event.
Tickets that include accommodation.
Tickets that include food or drink.
Amusement park tickets
Casino tickets
Family tickets
Gift cards for other people.
Open tickets, for example Sealife and Ähtäri Zoo. Open tickets mean tickets for which no specific day is specified at the time of purchase.
Read more about buying event tickets here
Enjoy the experiences with your Virike benefit!