Do you prefer the same lunch as most of Finns?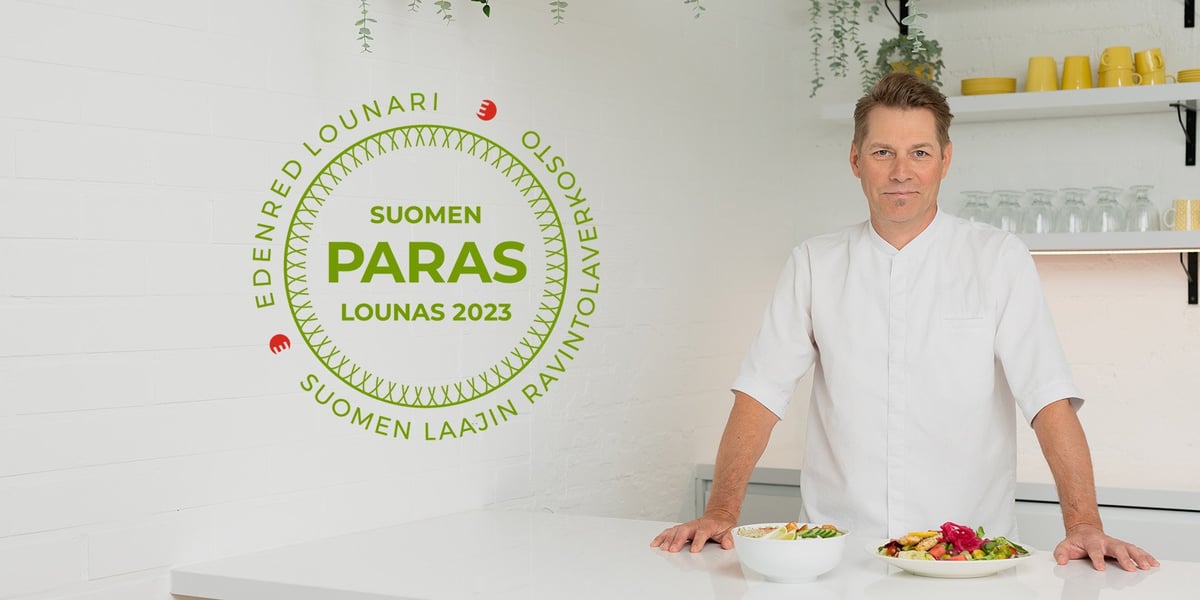 The Best Lunch in Finland (Suomen Paras Lounas) winner restaurant was chosen for the fifth time, when the open voting aimed at all lovers of good food ran again from September 1 to September 24, 2023. Before the start of the exciting competition, we conducted a survey of over 8,000 Finns about their favorite lunches. Do you find your own favourites in the answers?
Up to 70% of Finns prefer a buffet lunch
The survey showed that buffet lunches are a strong and popular part of Finnish food culture. 70 percent of Finns prefer a buffet lunch, while 30 percent favor à la carte, i.e. lunch portions ordered from a lunch menu. This is also directly reflected in the results of the competition organized by Edenred. This year, the winner was Star Lunch restaurant in Vantaa with a very versatile buffet lunch and the restaurant that won last year was Satama Bar & Bistro's lunch buffet with a lot of vegetarian options.
The popularity of buffet lunches is easy to understand: you can choose your own dish from the abundant choices, that also offer versatile nutrition options for every day. And when you concentrate on the abundant salad table, you won't slip into overeating either. From the rich salad buffet, you can easily collect a portion of colorful vegetables in accordance with the nutritional recommendations, that helps to get all the important minerals and vitamins as well as a source of fiber in a delicious way.
Traditional Finnish food, rich salad and sushi are the top 3 favorites
Finns have two clear favorite lunch foods, which are competing closely for the most popular title. They are traditional Finnish food and rich salads. 48 percent of Finns choose Finnish home cooking and 41 percent a rich salad among their three favorite lunches. The third favorite is sushi, which has found its way to the plates and hearts of Finns from Japan.
The internationalization of Finnish taste can be seen as well. After the top 3, the next most popular lunch dishes are from Asia. The fourth most popular is Thai food and the fifth most popular is Indian or Nepali food. For example, Finns do not name pizza and hamburgers as their favorites, as the healthiness of lunch is considered to be important.
Only 2% of working Finns do not eat lunch
On working days, almost all employed Finns eat lunch. Only 2 percent do not eat lunch. 65 percent of those who eat lunch get their lunch from a restaurant and 16 percent from a grocery store. Only 18 percent of Finns bring snacks from home for lunch.
Restaurants have a significant role in Finnish everyday life; 65 percent of working people usually eat at least once a day in a restaurant. That is why the vote for the best lunch restaurant in the Suomen Paras Lounas competition is a thank you to the restaurateurs who make Finns' everyday life tastier and smoother.
According to the survey, ordering lunch via the food delivery service has also become more common; 46% use courier services for lunch. According to the survey, the most popular food delivery service was Wolt. 25 percent of those who order lunch use Wolt.
Most of the lunchers have noticed the importance of lunch for well-being and concetration
85 percent of users of Edenred's lunch benefit Lounari say that using Lounari improves the versatility of eating lunch. In addition to the versatile selection of lunch restaurants and generous buffet tables, Lunch benefit can also be used in grocery stores, for example at the salad bar.
Healthiness is also an important value for Finns when eating lunch. It is the second most important thing after taste. Taste is the most important feature for 77 percent of Finns, healthiness for 60 percent. Only 9 percent of Finns say that lunch has no effect on energy levels during the working day. 34 percent say they get more energy from a good lunch, 31 percent say they are in a better mood after a good lunch, and 26 percent say they concentrate better.
The data comes from the responses to the Lunch Survey 2023 conducted by Edenred. 8273 Finns responded to the survey.
The Best Lunch in Finland competition takes place in September
The Best Lunch in Finland competition is held annually in September. Chef Harri Syrjänen has been the patron of the competition for 2022-2023. The previous years' winners can be found here: