With VR, the commute is environmentally friendly and comfortable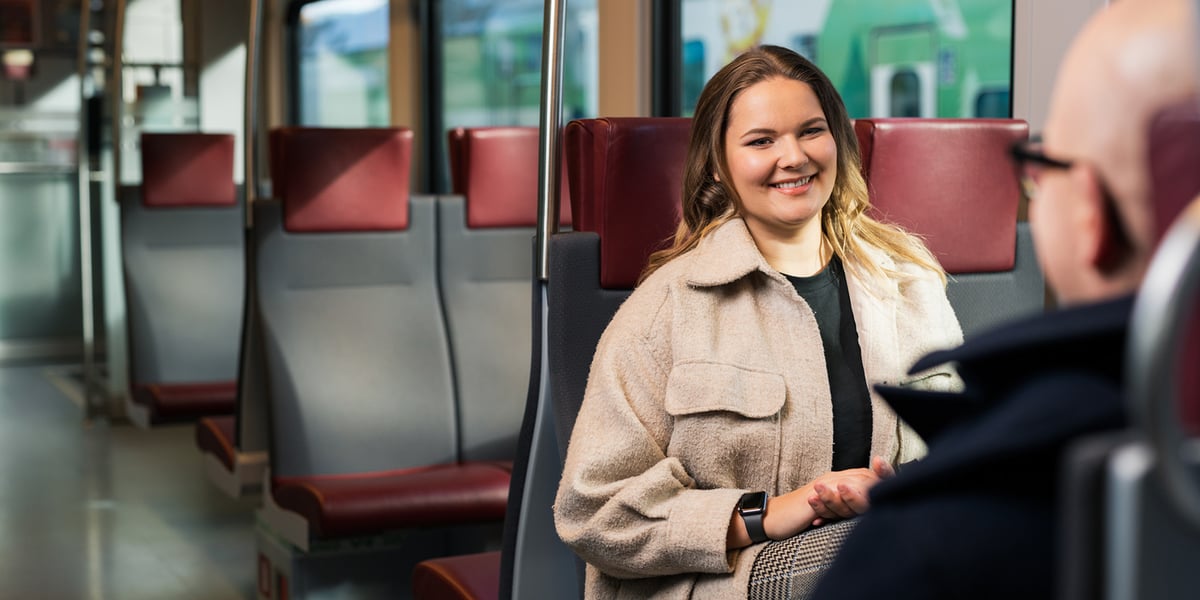 Traveling by train and commuting go well together in many ways – train traffic carries large numbers of commuters every week. Edenred Transport is currently also used as a payment method in the VR Matkalla application, which offers Edenred users VR's versatile routes and services. Why exactly is the train such a good option as a means of transportation for commuting and business trips? We collected facts and tips for commuting!
Notice! Tax free winter is still on at VR during April, which means that you will get your train tickets at a lower price, without VAT (10%) , if you buy them before the May Day.
1. Start your working day on a calmer note in train
Instead of traffic jams and searching for parking spaces, travelling by train gives a calmer start to the working day. For long-distance commuters, the train also offers a space where you can use the time either to do work or to recover. You can immerse yourself in reading a good book or in your headphones, knitting, doing sudoku - and why wouldn't a train ride be a good opportunity to learn to meditate regularly, for example by listening to a guided meditation?

If you've ever wanted to write a diary or come up with ideas about important projects, goals or, for example, summer vacation plans, travelling is often a good time for just this kind of nice ideation. If your sleep has been short, a nap can also be the best possible way to use part of your trip and relax.
2. The train is often a faster way to get there
On many routes, the train beats the car in travel time – and sometimes, even on domestic flights, the train is not far behind in terms of time. By train, you can get directly from the city center to the city center, and there is no time spent on security checks, waiting in the terminal or searching for a parking space and in traffic jams. For example, taking the train from Helsinki to Lappeenranta or Oulu saves a lot of time compared to driving, and the trip is more carefree than driving.
3. The train is a completely carbon-neutral vehicle
Commuting by train has many good points, but in one thing the train is invincible; when comparing the environmental friendliness of vehicles, the train clearly wins over other alternatives. Switching to the train is an easy and comfortable act for climate, because traveling by train is always completely carbon neutral.

Companies can also lighten their carbon footprint and get closer to their environmental and responsibility goals by changing business travel to trains. Likewise, by offering its employees Edenred's commuting benefit, the company supports more sustainable mobility. Did you know that 95% of VR's trains run on renewable electricity produced by hydropower and the emissions of trains on non-electrified track sections have been reversed?
Everyday choices are of great importance to the environment, so would choosing the train be your way of reducing the load on the environment and lightening your carbon footprint at the same time - and possibly your own environmental concerns? You can use VR's calculator to see how much you can save the environment with responsible train travel.
4. You can also work on the train
Many people also prefer working on the train, because the time spent sitting still is utilized. On the train, the idea can sometimes fly even better than in a stationary office. You can download the online documents to your computer if you want to make sure that everything is updated in real time. VR also has good news for those who work on trains: network connections for long-distance trains are currently under development, which will, on average, increase internet connection speeds fivefold compared to before.
The trains have telephone booths, which are great especially for business calls, so that the secrets of business life are preserved and the calls get the peace they deserve.
5. VR´s services increase your travel comfort
On the train, the services are always with you, and you don't have to change your itinerary for a restaurant or toilet. The train has free internet access and, of course, the possibility to charge both a phone and a laptop during the journey.

The trains also offer additional services with which you can tailor your trip to your needs and increase travel comfort even more. If you want extra space and peace, the Extra class is a good choice for concentrating on work or studying, for example - and the Extra carriages also offer coffee and tea service, which is included in the ticket price. It often helps concentration when you can conveniently take a coffee break from your own place or enjoy tea while working. You don't even have to go all the way to the restaurant trolley, because anyone can order food or a snack directly to their seat!
You can read more about train services on VR's website.
6. Creativity often awakens on the train
For many people, there is something about travelling that makes their thoughts go in new directions - when the scenery in the windows changes, and you are in a relaxed state as a traveler, creativity can awaken. Did you know that, for example, J.K. Rowling got the idea for Harry Potter on the train? For those who do thinking work or those who practice a creative profession, the train can be an ideal landscape office, where new ideas start.

You can get there relaxed by train, saving time and nature! So take advantage of your Transport benefit and buy your ticket from the VR Matkalla application on Edenred.
Read the payment instructions in the VR Matkalla application for purchasing tickets.
Employer, does your company offer Edenred Transport benefit that supports also environmental goals?