Edenred's dental benefit gives you a reason to smile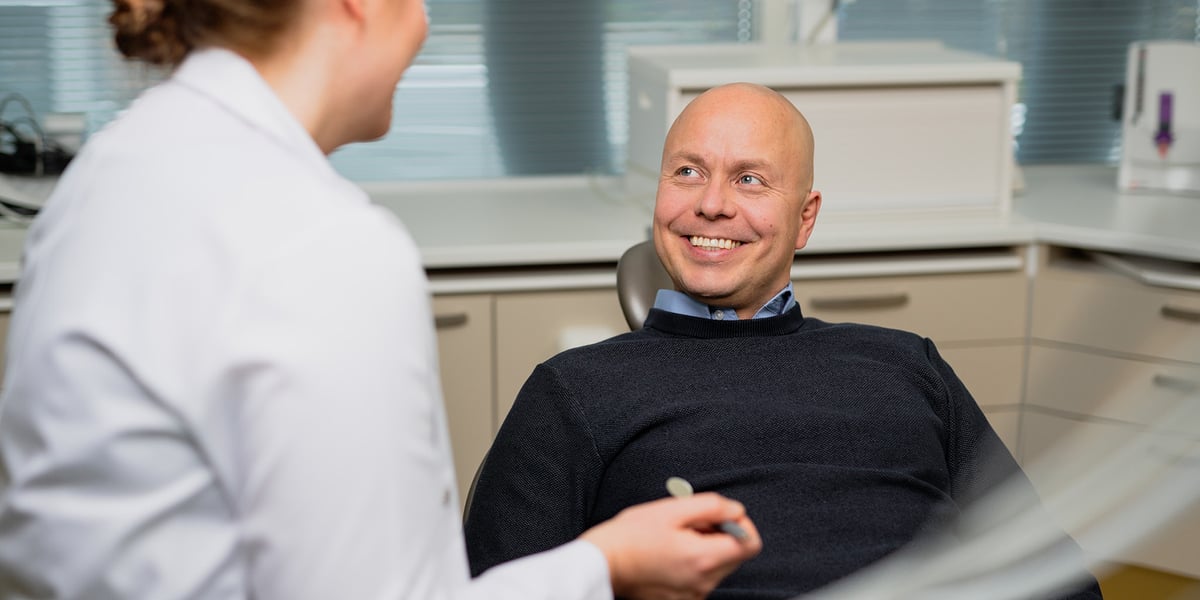 Edenred's range of employee benefits has expanded in a jaw-dropping way: now a dental benefit is also available. Edenred Dental is a modern and cost-effective way to maintain the overall health of employees by taking care of employees' smiles and dental health.
Instructions for activating and using the benefit can be found at the end of this article.
Here you can check all the clinics, where you can use Edenred Dental.
What can the dental benefit be used for?
Often, a long time may pass without dental checkups. When an employee needs to visit a dental hygienist or other treatment procedure, the dental benefit covers such visits and lowers the threshold for dental care. Regular dental care also affects the overall well-being of employees and prevents diseases. The dental benefit is intended for the most usual care procedures that maintain dental health.
The dental benefit offered by Edenred can be used, among other things:
For dental checkups
For patching dental cavities
For calculus removal
For a personal gift card that can be used for the procedures mentioned above or medically justified orthodontic treatment
Edenred Dental can't be used for aesthetic procedures, such as teeth whitening.
The employer chooses service providers from Edenred's network where employees can use their benefit
As when ordering Edenred's massage benefit, the employer also selects the chains and service providers from Edenred's network where their employees can use their dental benefit. In this case, the instructions of the Tax Administration on offering a tax-free dental benefit are followed. Edenred offers an easy tool for this, which makes it easy to create contracts online.
We strongly recommend employers to choose all dental care service providers available in Edenred's network. The wider choice options employees are offered to use the benefit, the more flexible and easier it is to use the benefit. Flexibility and ease ensure that employees also use their benefits.
Where can you use Edenred´s dental benefit?
Edenred's network of dental clinics is growing all the time! Currently, our Dental network includes, among others, Ebeling Dentists, Hammas Mehiläinen and Oral Dentists, Plusterveys Dentists and Coronaria Dental Clinics.

In addition to that, there are numerous smaller clinics in our network, and new clinics are joining all the time. So take a look at our Merchant Search and filter it by benefit to find all the dental clinics where our benefit can be used.
The Edenred Dental benefit can be given tax-free up to 3,000 euros per year
Edenred's dental benefit is a tax-free benefit up to 3,000 euros per year. The general validity period of the benefit is 2 years. The dental benefit also works in MyChoice, which enables the beneficiary to transfer the balance (within the limits of the maximum amounts determined by the Tax Administration) between the Massage benefit, the Transport benefit and the Virike benefit according to their own preferences. The MyChoice feature can be found in the MyEdenred application, where beneficiaries can check their balance, manage their benefits and information, and easily find places to use the benefits from the Merchant Search.
How does the virtual Dental benefit work?

Edenred Dental is a completely virtual benefit that employees only need a smart device to use, i.e. a phone or smartwatch. To start using the benefit, the beneficiary must first activate the virtual Dental card.


This is how you use the dental care benefit:


Go to your MyEdenred account and look for a dental benefit in the menu
Go to "card details" and select "activate card"
Activate your virtual card by entering the serial number of the card and your personal security number. You can find the serial number of the virtual card in the email you received from Edenred.
Note: if you can't find an email, check your MyEdenred app profile under which email address is associated with your MyEdenred account.
Add your virtual Dental card to Apple Pay or Google Wallet and pay easily and securely with contactless payment. After you have activated the benefit, you can find your virtual card information under the dental care benefit under the "Card details" section.
Your employer will either load the balance directly into your dental benefit or you can alternatively transfer the balance from another benefit using MyEdenred's MyChoice feature.

You can use the dental care benefit up to 3,000 euros per year, so you can transfer the desired amount up to 3,000 euros, depending on how you have a benefit balance to transfer.

Ready! You can now pay with your dental benefit in all dental clinics chosen by your employer.
Book an appointment at the dental clinic of your choice, which can be found in our Merchant Search.


If you are not sure whether all the dental clinics offered by our Merchant search are included in your contract, check with your employer.



This is how you pay at the dental clinic with the dental benefit

To be able to pay at the dental clinic smoothly with your dental care benefit, proceed as follows:
Make sure that the dental treatment performed on you is suitable to be paid with an employee benefit. (see the beginning of the article)
Please check that the balance is ready in your dental benefit before you go to the checkout to pay for the service
When you're at the clinic´s checkout, open your Apple Pay or Google Wallet app on your smart device and look for the digital payment card for the Edenred Dental benefit you have added before.
With your Dental benefit, pay the desired amount by contactless payment with Apple Pay or Google Pay.
If your benefit balancedoes not cover for the entire amount, pay the difference with another payment method.
Edenred Dental works with Apple Pay and Google Pay
Paying with mobile payment, i.e. Apple Pay or Google Pay, is fast, safe and easy. The benefit is always with you on your smartphone or smartwatch in your electronic wallet and works with contactless payment terminals, protected by very secure biometric identification. Read more about mobile payment.